Went out today and saw a few bits of stuff. I picked up my latest purchase from the Post Depot as well. It had traveled all the way from Mexico!
It's a small knockoff of the SpaceX Nova rocket.
Incomplete, which I knew, it's still a welcome and unusual addition to my spacex knockoff shelf. Would you build it or leave it on the sprue readers?
I also picked up this old plastic ocean liner for a modelling project I have in mind. I do about one a year cos' I've no natural skills!
This liner gives me the base for my next disaster - Scout 1!
In another charity shop I found Explorers from 1975.
I brought it home to form part of my ongoing recreation of the bookshelves in my Parent's home , where I grew up. This was a late addition to them as the house was sold in 1977, so I only recall the cover and not the contents.
In WH.Smith I saw this Thunderbirds Agents' Technical Manual. It was being sold together with the Thunderbirds jigsaw. It's amazing how Haynes have branched out from cars into popular culture. Wish they'd do a Project SWORD Manual!
and last but not least in this tossed salad of geekery is something I chanced on last weekend in Boyes store in York.
It was a carded blister pack of a couple of palm trees - like these - and a few plastic dinosaurs too. It looked so cool and retro. I don't know why I didn't buy one and I can't find a piccy online. Did you have these palms as kids readers?
These palm trees always remind me of my small King Kong figure I had as a kid like this one on the left.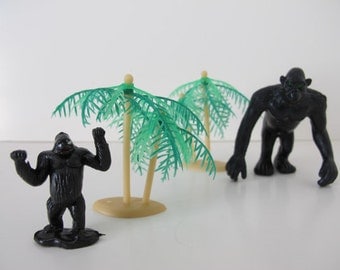 I'm pretty sure there's a palm tree in the super rare Tarzan carded figure set by Lone Star but I've only ever seen a black and white piccy of it on the cover of Plastic Warrior magazine and its hard to tell.
Its so rare it even generated a googlewack - just one single result on Google! See below [just seen that I got the mag's name wrong! Doh!]. Anyone got one?