Just spent a few days in our spiritual home of Whitby on the North East coast of England nestling nest to the bleak Yorkshire Moors.
With charity shops, junk shops and indoor car boot sales there's always plenty of collectables to rummage through.
My small catch this trip include a beautiful boxed Super 8 film reel of the 1940 dinosaur epic 1 Million BC starring Victor Mature [pictured is one courtesy of Gasoline Alley, which is slightly different to mine]. I'm sure I recall seeing it advertised by the Captain's Company at the back of Sixties' horror comics like Creepy and Eerie but couldn't find any evidence of this online.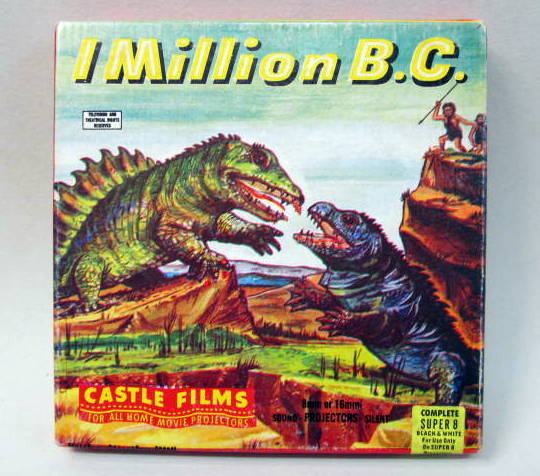 Not to be confused with the later One Million Years BC starring Sixties bombshell Raquel Welch, the Victor Mature movie was also known as Tumak. It was one of the first major films to use what became known as the Slurpasaur, whereby reptiles were filmed larger to look like Dinosaurs!
The one in the colourised shot above reminds me totally of the slurpasaur's head from Journey to the Centre of the Earth filmed 19 years later in 1959!
Speaking of Raquel, today I also found an old wall poster of Elvis on a motorbike. At £8 it was too steep for me but I used to see this poster next to one of Raquel's cave girl at the back of American comics. It usually sat alongside Steve McQueen's "Halt" motorbike shot from the Great Escape and my personal fave, Frankenstein, which I was lucky enough to re-acquire about 10 years ago, in its original Sixties' postal carton from the Monster Company.
I also passed up on an old record LP I saw many times advertised in Creepy and Eerie magazines in the Sixties, Mike Jones' Hi Fi Spooktacular. At £12 in a record fair box it was a little too much for me, but a lovely item to see and a reminder of happy days reading horror comic ads, in the Captain's Company, in my parents' old front room.
www.neverendingwonder.com