I grew up with atomic age symbols like the above as many of you no doubt did. In the Fifties, Sixties and Seventies they were everywhere and part of the fabric of popular culture.
I happened to notice a wonderfully simple but evocative symbol on the side of the Corgi Lincoln Continental die-cast, below and recalled how similar symbols used to appear particularly on one-armed bandits in the penny arcades of my youth.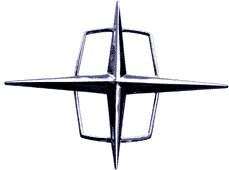 Similar symbols seemed to be everywhere back then: art, cars and household items like posters, cards and crockery. I suppose they are types of stars.
I do miss this graphical style, which I suppose is encompassed by terms like retro and kitsch these days. Does anyone know the history of the atomic age symbols?